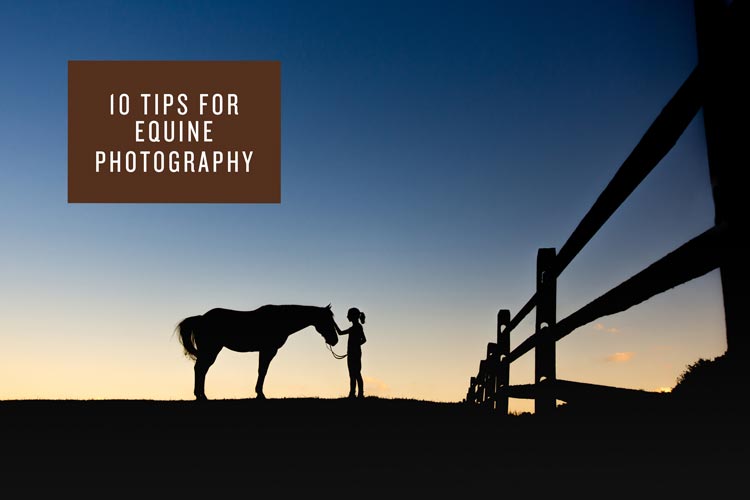 If you have been a photographer for any amount of time, you realize that with each niche comes a new set of skills and best practices.  While I have a strong knowledge of my camera, posing humans, shooting in a variety of lighting conditions, including natural and artificial light…I would be a lost little puppy if I was told to go and cover a wedding next weekend!
It would be the same for someone that is used to photographing dogs but they have a client that wants to have photos of their horse as well!  Photographing horses is incredibly different from any other type of genre and it is extremely important to have a little bit of knowledge and background with these beautiful animals before you head out to photograph them.  I'm sharing a few of my favorite tips here.
GRAB A LONG LENS
Horses are such regal and gorgeous animals that we want to use a lens that compliments their beauty.  Since they are large and take up so much of your frame, you will see lots of distortion when photographing them with a wide or mid-range lens.  A long lens, such as a 200mm lens, will capture their beauty as nature intended…and give you some wonderful creamy bokeh to boot!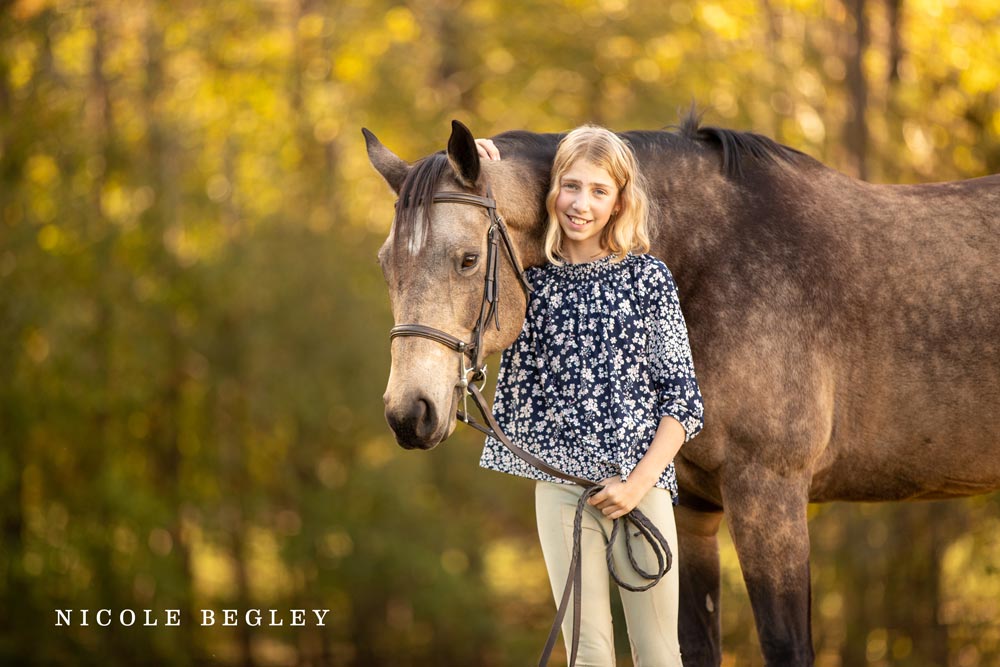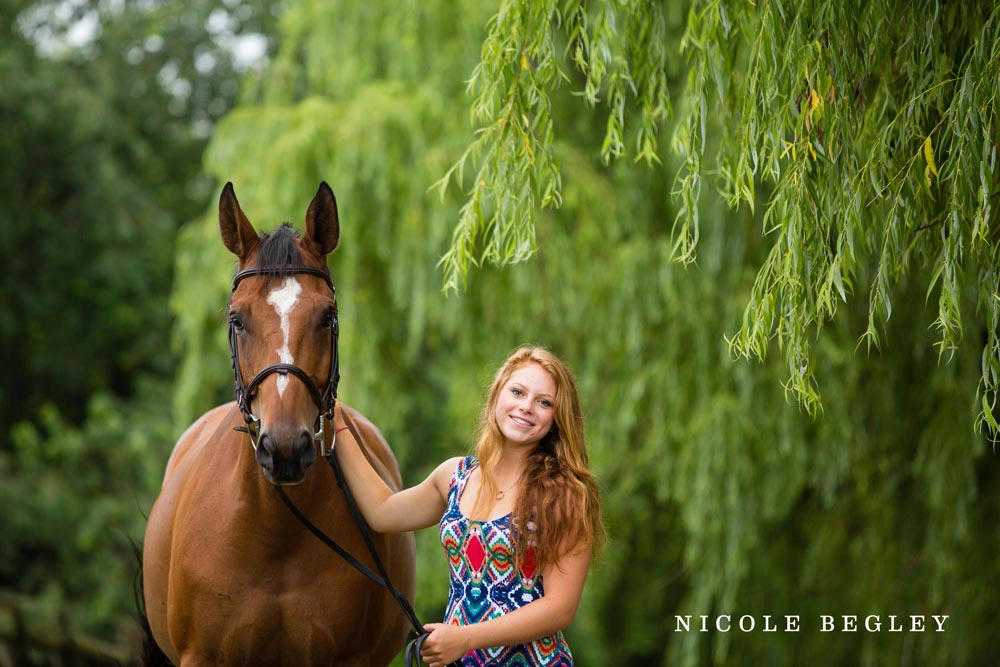 GO WIDE IN MODERATION
Sometimes a wide-angle lens adds some fun variety to your session.  The key is to add a sprinkle of shots, not half of your final gallery.  Grab a wide-angle lens and get low to create a larger than life image of your horse.  Please just keep safety in mind and never lay or even sit on the ground next to a horse.  They can be startled easily and a hoofprint on your back is not a good day.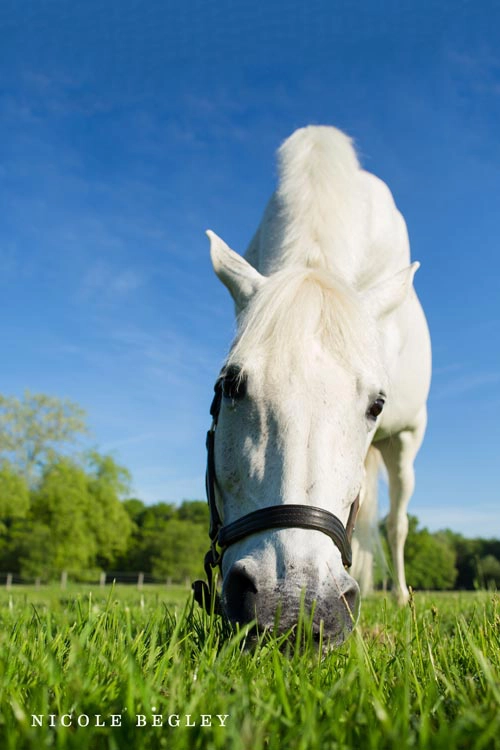 LOOK FOR TALL GRASS
I love to use the tall grass to create a soft foreground bokeh in my images.  It doesn't have to be much!  In the image below, it was just one little section of overgrown weeds in a pasture.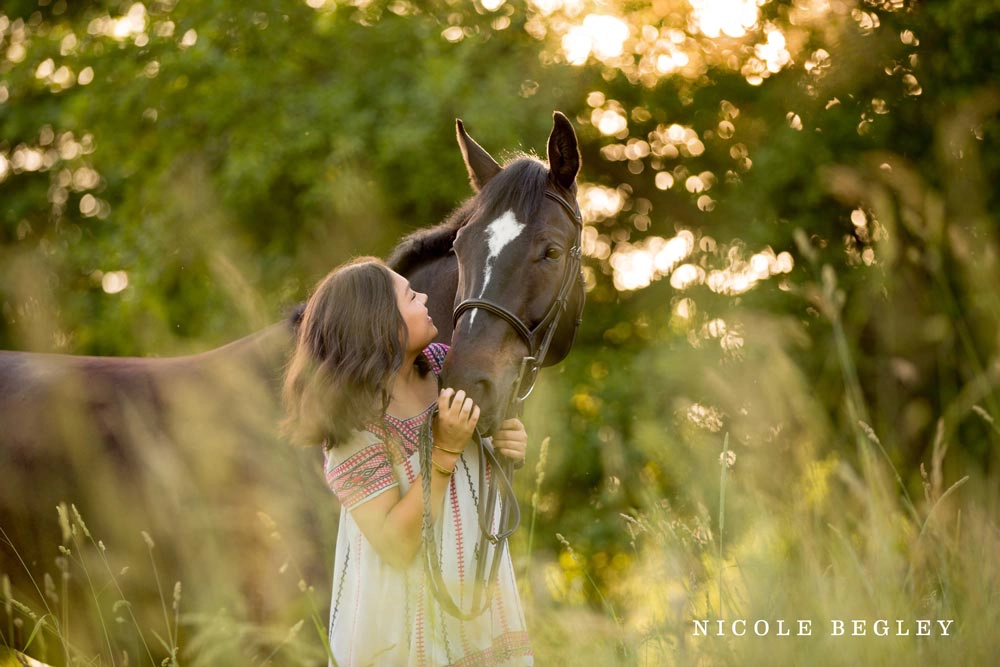 BE COMFORTABLE
When working with any animal, it's imperative that you are familiar with their natural history.  Understand the body language of horses and know the different breed characteristics.  Photographing a thoroughbred vs. a warmblood can be a wildly different experience!
It's also incredibly important that you have experience handling and working with these animals if you are to photograph them regularly.  It will make you, and your client, much more comfortable.  On that same note, always ask any bystanders if they are comfortable holding the horse before just giving them the reins and the lead rope.  Even though mom is at her daughter's session, she may not be comfortable holding the horse!
WATCH THE REINS
It's my pet peeve when horses are photographed in a bridle but then the reins are removed…because a horse would never be wearing a bridle without reins.  A halter?  Yes.  A bridle? No.  If the owner is holding onto one of the reins while the reins are over the horse's neck, it is often sticking out at an unnatural angle and that makes it VERY time consuming to edit.  If the owner is holding the reins as if they were walking the horse, the reins would be exiting the frame and could be distracting on a headshot.
Easy solution?  Clip a lead rope onto the bit to keep the horse secure but allowing the reins to rest in a natural position on their neck!  Please don't do this for a horse that is already anxious or fidgety though, this should only be done on a horse that is calm and relaxed.
EARS UP
Owners generally prefer to order images in which the horses' ears are pricked forward.  This happens when the horse is engaged and interested in what is going on.  Like dogs, it can be challenging to keep their ears forward throughout a session as the novelty of the session quickly fades.
A few of my tricks include; crinkle an empty water bottle, have a little grain in a bucket to shake, place some rocks in a can and shake them, crinkle a peppermint wrapper, throw some pebbles up in the air (not at the horse obviously), download a horse noise app and play some whinnies, or have someone jump around or run behind you.  Of all of these, often the best and most consistent is dragging my camera bag.  It's a big rolling bag and apparently, it just may eat horses so they are ALWAYS keeping an eye on it!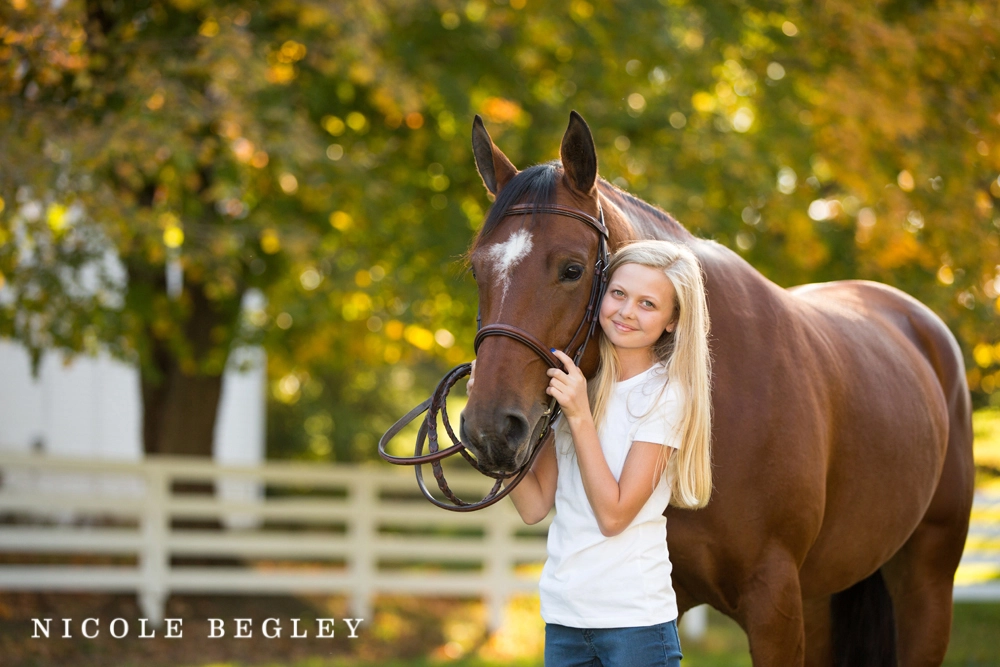 CAPTURE THE RELATIONSHIP
While I always deliver a traditional shot of everyone looking at the camera, when the whole session is made up of those shots it can get rather stale.  I tell my clients to follow their horse's lead.  If the horse turns into them, they should give their full attention to the horse…regardless of what I was instructing them to do prior.  If the horse is looking off into the distance, they should look in the same direction or at their horse.  If you want to encourage "snuggly" images, have the owner stash a handful of treats in their hand to encourage the horse to wrap their neck around them.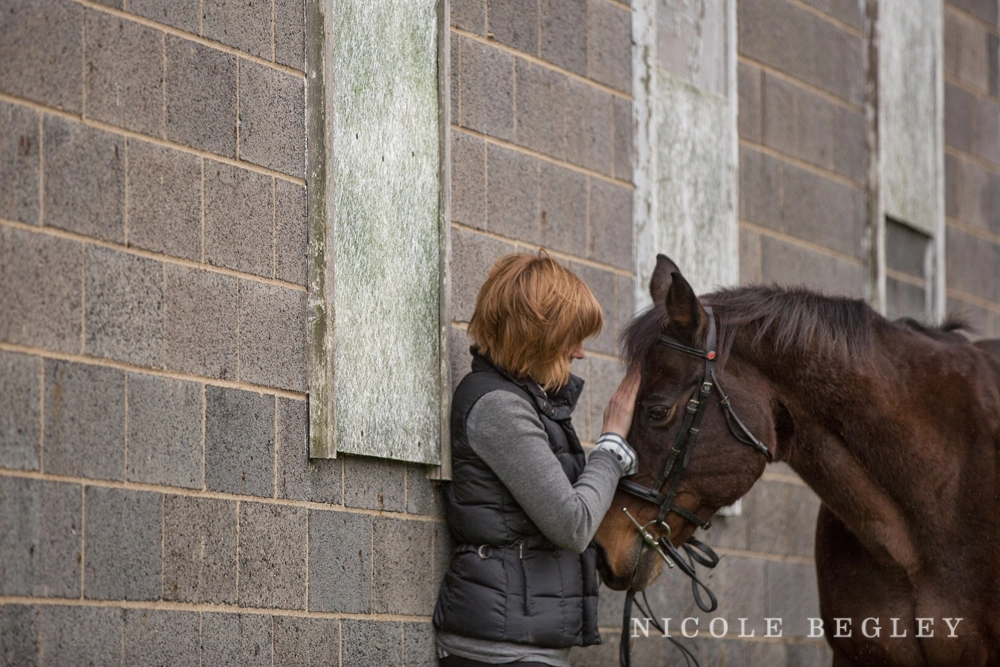 CREATE VARIETY
Barns are often feast or famine, either the property is gorgeous with natural elements and white picket fences or it's a bit older with ugly fencing and not many options.  It's always good to have a plan for the latter, as that way you can deliver great images no matter what the surroundings.
Photographing just inside a big door of the aisleway or an indoor arena provides beautiful directional light and a darker background that hides distractions.  Also, look for and decent fencelines to photograph against as well as a texture on the outside walls of the barn.  If you feel so inclined, you can always take a light to create more options in any location.
This image was created in an indoor ring with a bare bulb strobe on a stand behind the subjects: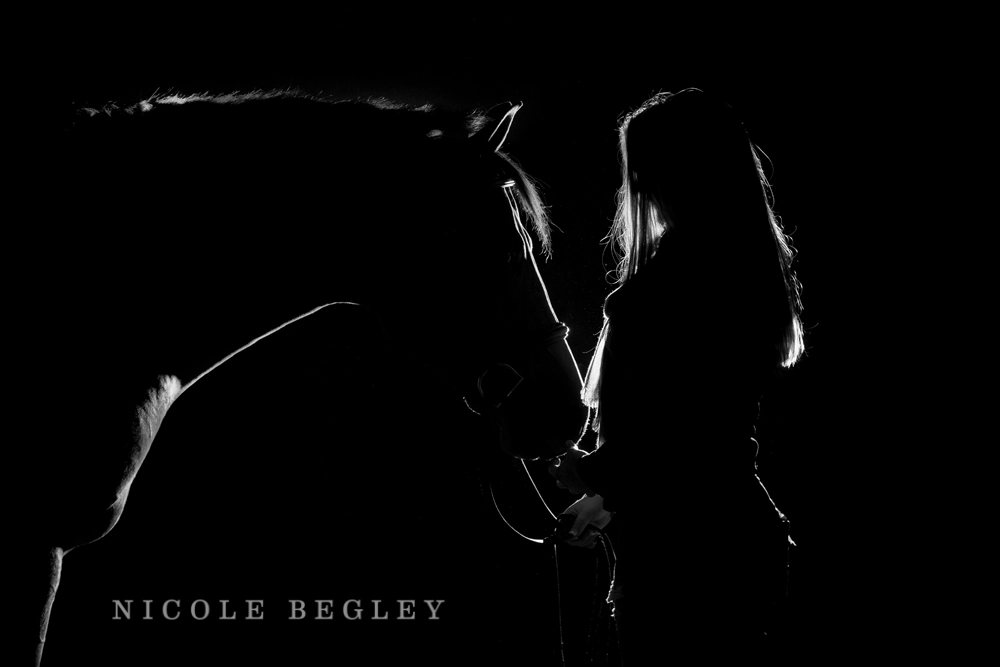 This image was created with natural light only in an indoor ring with the horse facing an open door: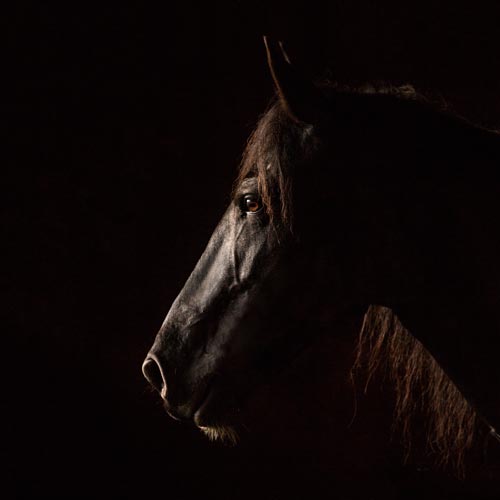 PROTECT YOURSELF LEGALLY
Always have your client sign a contract.  ALWAYS.  It doesn't matter if it is a portfolio building session or a private client.  Repeat after me.  ALWAYS.  The most important clause in that contract is a limitation of liability clause that protects you in case a $200,000 show horse breaks their leg during your session.  You should also have a business liability insurance policy for situations like that as well.  I have 1M in coverage and it's less than $200/year.  Can't beat that piece of mind.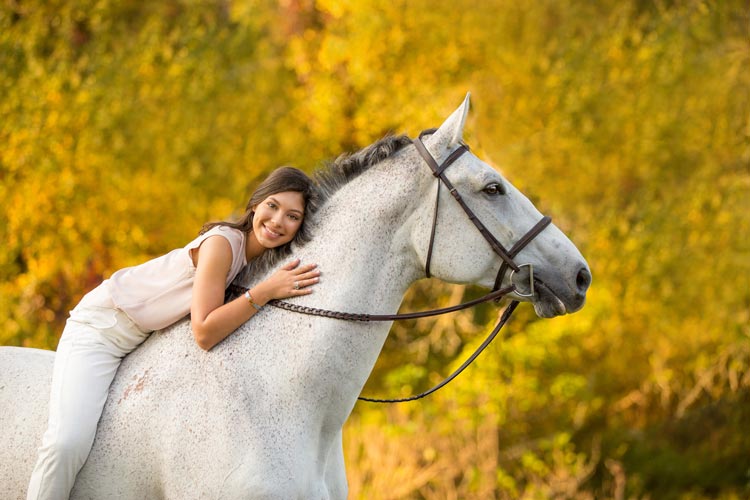 SAFETY FIRST
Horses are big animals, and any large animal can be dangerous.  Please never forget that.  You must respect their size and their power whenever working near them.  They are prey animals and can spook easily.  For this reason, I NEVER have anyone sit on the ground near a horse.  I will also never sit or lay down to photograph a horse.
I have also made a decision in my business that I will not photograph the owner with open-toed shoes or barefoot on or around a horse.  The risk is simply not worth it to me.  If a horse with shoes were to step on your naked foot, you would most likely need many rounds of reconstructive surgery.  A great pair of leather cowboy boots look super cute with a sundress anyway!
As for the helmet, even the most mellow horse can spook at nothing. I do allow riders to get on briefly without a helmet, but I also am assessing the situation constantly.  If the horse is a bit tense we scratch that idea or if there is activity happening on the farm that could cause the horse to spook we get off immediately.  This can be things like other horses running in the fields or a large tractor coming by.
TAKE IT TO THE NEXT LEVEL
If you are interested in photographing horses, check out The Quick Start Guide to Equestrian Photography by Shelley Paulson.  In this 30-page PDF guide, Shelley walks you through horse behavior, safety issues, tools of the trade and camera settings, preparing horse and rider for the session, how and why to get the horses ears up, posing the horse and rider, and capturing the connection between the two.
That's not all, you can also download an editable client welcome guide and pre-session questionnaire to help your equine clients prepare for the session.  She also includes a phone app that you can reference on the go at your next session to help you create variety with your posing!  Never be at a loss for what to do next again!  All the above for less than the cost of your electric bill!
Curious about what goes into an equine photography session?  Join Nicole Begley, creator of Hair of the Dog and Nicole Begley Photography, as she takes you as a special guest on a horse and rider portrait session with the Behind The Lens: An Equine Adventure course.  Discover how she quickly moves through a session to capture a variety of images for the client, how she utilizes common barn features such as fence lines and open doors.  Since our work isn't complete just capturing the images, Nicole will also take you through post-processing some of the images as well.  These courses retail for $97 if purchased alone, but it's yours to keep when you join the Hair of the Dog Academy.  #nobrainer
Latest posts by Nicole Begley
(see all)