Weekly conversations to help pet photographers excel
Are you ready to grow your business so that you can finally live the life of YOUR design? At the Hair of the Dog Podcast, we help pet photographers make more money.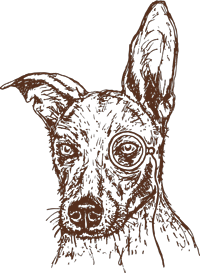 BEST EPISODES FOR MARKETING
Below are all our podcast episodes to help you level up your marketing strategies for your pet photography business!
Here's the truth: Building a pretty website and posting on social media isn't nearly enough to develop a sustainable pet photography business. Overreliance on "organic marketing"—customers naturally finding their way to your website through search or social—is a common mistake among new pet photographers. In today's episode, we'll talk about ways to extend your reach beyond organic marketing.  
On this episode I'm joined by Caitlin McColl, one of our beloved pet photographers Down Under. In addition to running Ragamuffin Pet Photography and co-hosting the Pet Photographer's Club podcast, Caitlin leads a brilliant program called From Concept to Coffee Table, designed to teach pet photographers how to build their client base through self-published books.
In this episode, I'm diving into my *all-time favorite* way to build a pet photography business: charitable marketing.
This week's episode features Pittsburgh pet photographer Jessica Wasik, who's mastered the art of running successful calendar contests.
In this episode, Deb shares her simple, brilliant system for creating social content that connects deeply with your audience. The way she breaks it down into actionable steps takes the stress out of content planning and creation, and provides a valuable roadmap for growing your business through social media.
Check out our collection of the best Hair of the Dog Podcast episodes that are sure to help you improve your pet photography craft! 
This week's guest, Mandi Pratt of Greyboy Pet Portraits, shares her process for creating stunning etched prints from photographic images. After listening to my conversation with Mandi, you'll start thinking about your suite of products in a whole new way. 
In this week's episode, Holly offers advice on creating magnetic branding to attract your ideal clients, and also shares some insights on how photographers can build strategic retail partnerships.
Once you've established your pet photography business, the idea of starting over in a new market can be daunting. But fear not, mobile photogs: It's not as tough as you might imagine!
In this episode, I talk with Allison Shamrell about her cross-country move to San Diego, and what went into establishing herself as one of the city's most successful photographers.
In this week's episode, I chat with fellow pet photographer and copywriter for the pet industry Kim Wishcamper. She shares some essential ingredients for an effective website, and gives us real-world examples of what to write to win over potential customers. Loads of actionable info in this episode!
In this engaging episode, Andrew Hellmich shares a long list of ideas, resources, and insider tricks for using video to boost your business. And don't worry—his ideas are as simple to execute as they are brilliant.
Are you a pet photographer who has built a solid portfolio, but STILL isn't booking enough clients? Crack the code to booking clients who can't wait to spend money with you! 
Join our FREE course and learn your way around Adobe Lightroom and Photoshop. Plus, we'll let you in on our can't-live-without secrets for editing pet photos like the pros.
Forget what every other pet photographer is charging — the best thing you can do for your business is set your prices based on YOUR business and YOUR goals. It's time to stop following the pack and let your rates lead you to a sustainable business!
Want to search our podcast for topics like:
Marketing Photography Mindset Business Pricing and more?